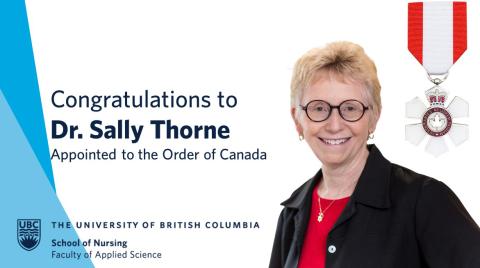 Dr. Sally Thorne, Professor, UBC School of Nursing and Associate Dean, Faculty Affairs, Faculty of Applied Science, has been appointed Member of the Order of Canada.  
This honour recognizes Dr. Thorne's extensive contributions to the practice and discipline of nursing as a researcher, academic and leader. It was announced by Her Excellency the Right Honourable Mary Simon, Governor General of Canada, ahead of Canada Day. 
Dr. Thorne is visionary in her efforts to further the contributions of nursing to the best possible care of Canadians," said Dr. James Olson, Dean, UBC Faculty of Applied Science. "She is an inspirational leader and generous mentor to many in the nursing profession and beyond, and her accomplishments in research, healthcare delivery, and leadership are exceptional, not only in Canada but also internationally. I know of no other Canadian more deserving of this honour.
Over the course of her career, Dr. Thorne has led the creation of new programs in both education and research, has increased public awareness of the nursing profession, and has positively influenced patient-centred care in Canada and abroad.  
Her research focuses on patient experience in serious and life-limiting conditions, such as chronic disease and cancer. Most recently, she has studied palliative approaches to care delivery across sectors and nurses' experiences with medical assistance in dying. In addition to advising various professional and policy organizations, she actively fosters nursing scholarship development through her philosophical and methodological activities and in her role as editor-in-chief of Nursing Inquiry. 
Dr. Thorne's national and international legacy has been celebrated with numerous awards and prizes. She has been inducted into the International Nurse Researcher Hall of Fame, was elected as a fellow of the Canadian Academy of Health Sciences, American Academy of Nursing and the Canadian Nurse Educator Institute. She received the Jeanne Mance Award from the Canadian Nurses Association, and several honorary doctorates. Dr. Thorne was also named a Charter Fellow and entrusted with leading the newly formed Canadian Academy of Nurses. 
Dr. Thorne became a Member of the Order of Canada on June 30 — her last day of full service at UBC before retirement. She plans to continue to do research, graduate student supervision, voluntary professional activities, among other things as a Professor Emeritus.
For official announcement see: Order of Canada appointees – June 2023